RoidonGi
100% Organic Natural Pomegranate Juice
- RoidonGi is a company with love and passion in the cultivation of pomegranates since 2012. Our own estates are located in Kalogriana Karditsa, while the estates we work with extend throughout the region of Greece and are all certified organic.
Pomegranate is the most important and well-known fruit from antiquity for its amazing medicinal properties, so we want to offer you all the benefits of pomegranate, we create fresh organic pomegranate juice, always meeting the high quality standards.
The production of the juice takes place in our laboratory, where we apply all the quality standards set by the Greek and European Food and Beverage Code by applying ISO 22000: 2018 security system (Haccp).
After the taste test of our juice, the consumer has understood the quality of the raw material, the excellent appearance of the juice, its perfect taste and all this at affordable prices.
Our goal is to offer the consumer our excellent organic juice in larger quantities as needs require it and to establish ourselves in the consumer's consciousness as a company with quality and tasty products.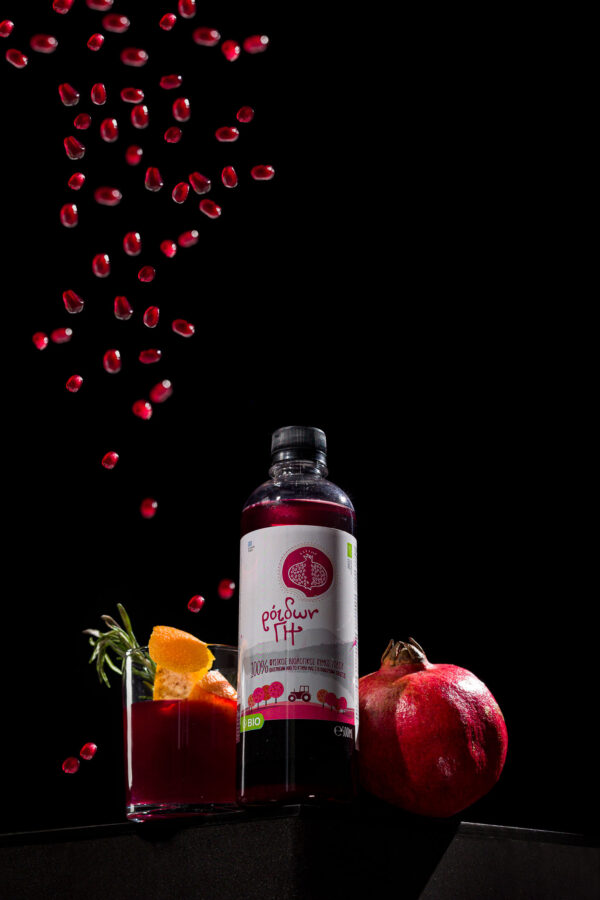 Respecting the natural beneficial properties of pomegranate, its taste and willing to offer you a pure and nutritious product, we do not use the slightest heat treatment, nor preservatives or diluents ...
RICH IN VITAMINS AND ANTIOXIDANTS
About Pomegranate
---
In ancient times the pomegranate was mentioned as a sacred fruit. In our time the pomegranate has been identified with good luck, fertility and the abundance of goods. Indeed, in this fruit there is an abundance of beneficial properties that benefit our body.
As thousands of studies have shown, pomegranate is a fruit rich in nutrients and properties. You will hear many call it "red gold", since a multitude of research works prove its high nutritional value.
Pomegranate is rich in vitamins Κ, Ε, C, B1, B2, B9, B5 and in a variety of metallic elements (calcium, iron, magnesium, phosphorus, potassium, zinc, selenium), carbohydrates and fiber. It is considered as one of the top antioxidants with multiple therapeutic benefits.
RoidonGi brings all the aroma and rich taste of pomegranate with a method that allows it to retain all its nutrients, without the addition of preservatives and with certification of Organic Farming.
MAIN THERAPEUTIC PROPERTIES OF THE JUICE:
---
Slows down aging
Revitalizes the liver
Protects the kidneys
It has anti-allergic properties
Strengthens the immune system
Prevents anemia
Prevents heart disease
Prevents prostate cancer
It works against breast cancer
It acts protectively on skin cancer
Protects DNA
Normalizes blood pressure
Regulates metabolic syndrome
Protects against Alzheimer's disease
Protects against osteoarthritis
Helps digestion
We have secured all the benefits of pomegranate in RoidonGi juice and we offer it to you!
OUR LOCATION
Kalogriana Karditsa, PC 43061
---